August 13, 2008
This Turtle Is Soooooooooooo Cute!
Language
Reading Level
Listen to Article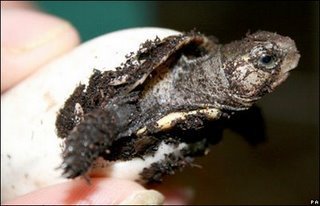 The Bristol Zoo in the UK showed off their latest new addition - this cute Chinese matchbox turtle, which hatched about three weeks ago. The baby turtle weighs only 15 gms (52 ounces) and measures about 4 centimeters long.
Also known as the yellow-margined box turtle, at its full size this little fella will grow to a whopping 16cm in height and 1.7 lbs in weight.
Native to China, these turtles are sociable animals, often found clustered in groups in the wild. While all sub-species of matchbox turtles are omnivorous, some of them live in the water, while others only wade into shallow ponds for food.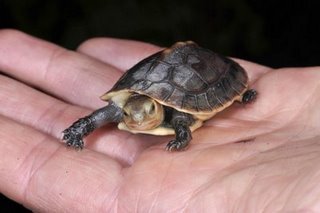 Though they can live as long as 50 years in the wild, most of them live for much less than that, for in their native region of China, these tiny creatures are hunted down for their meat and for medicinal purposes. Of the nine sub-species of box turtles, seven are on the critically endangered list - which means they could become extinct very soon.
That makes this little yet to be named baby turtle, even more special. Bristol Zoo officials are especially thrilled since they have been trying to breed these turtles for three years and so far this is only the second baby born.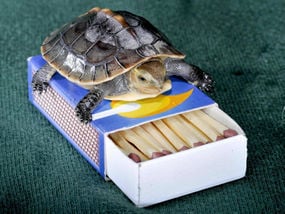 The new arrival, which can easily fit in a matchbox, will reside in the reptile house alongside 14 adult matchbox turtles, under the watchful eyes of zoo officials. What a cutie!
Source: DailyExpress.co.uk, The Sun.co.uk